Victoria's Secret Fashion Show 2005
Lets make this cold winter season hotter, check out the Victoria's Secret Fashion Show 2005 video clip!
There's not too much to say about this one. After all, what can you say about Victoria's Secret that hasn't already been said. Adriana Lima, Alessandra Ambrosio, Giselle Bundchen, Heidi Klum, Karolina Kurkova, and Tyra Banks are all present, and looking great as always in their Victoria's Secret lingerie (and Heidi Klum gave birth just a month ago, not bad). I will say this, however, it's 59 pictures of glorious Hi-res supermodels. And it's all after the jump. [via]

More pictures can be found on Egotastics!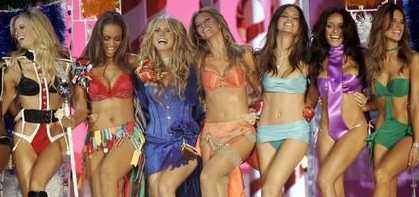 Victoria's Secret is a retail marketer of women's clothing and beauty products, but is most recognizable as a marketer of lingerie. Founded in San Francisco, California, USA in 1977 by Roy Raymond, who sold it in 1982 to The Limited Inc. The company gained notoriety in the 1990s after it began to use supermodels in their advertising and fashion shows; prominent supermodels featured by Victoria's Secret include Alessandra Ambrosio, Tyra Banks, Ana Beatriz Barros, Gisele Bündchen, Naomi Campbell, Laetitia Casta, Eva Herzigova, Adriana Lima, Karolina Kurkova, Petra Nemcova, Frederique van der Wal, Heidi Klum and Tricia Helfer. Victoria's Secret has a flag-ship store in New York City's Herald Square.





Labels: Babes