Happy Birthday - Michael Jordan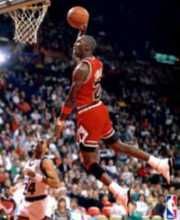 I didn't realise today is the birthday of the Greastest NBA player of all time; Michael Jordan. He was born on February 17 1963, in Brooklyn, New York. Although he has retired from the game for years, I can still recall the games that he played, how he had lead the Chicago Bulls to win SIX times NBA Championships, and got himself FIVE times MVP title!
And now I truly wish he enjoy his retirement, and most of all Happy Birthday Michael.
Review his spectacular [
Top Ten Plays
] of the Bulls Empire... and his [
Brief History
]
tagged:
Michael Jordan
,
NBA
,
Top Ten
,
Chicago Bulls
,
Funny Junk
,
Basketball
,
Air Jordan