Donald Trump's Daugther is HOT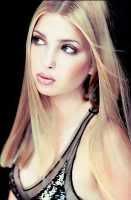 I like to watch "
The Apprentice
", but do not really like the big boss. Somehow I found out from the news that he has got a pretty daugther, who appeared in the game show as a boardroom advisor.
Fox News: [
Trump: If She Weren't My Kid, I Might Date Her
]
....
It all began when Trump was asked how he'd react if Ivanka, a former teen model, posed for Playboy.
"If she posed, it would be fine. But it depends on what's inside the magazine," Trump answered.
"Although she does have a very nice figure," he said. "I've said if she wasn't my daughter, perhaps I'd be dating her." ....
View her hot [
Picture Gallery
]
tagged:
Media
,
Apprentice
,
Donald Trump
,
Ivanka Trump
,
model
,
Funny Junk
,
Sexy