Late For Work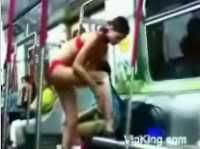 Ok, my Windows has been up, but still lots of things need to be installed. However I still manage to find some good thing for you guy.
This girl really has been late for work, until she has to change inside the train, and she even '
Shave
' inside the train. This clip take place in Hong Kong, see how's other passengers' reaction.
Watch [
Late For Work
]