The Da Vinci Code Trailer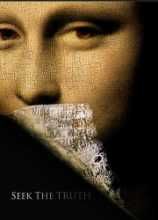 The secret of 2000 years is going to be revealed, next year... starting May 19, 2006.
Produced by Oscar-winner Brian Grazer and John Calley, The Da Vinci Code, begins with a spectacular murder in the Louvre Museum. All clues point to a covert religious organization that will stop at nothing to protect a secret that threatens to overturn two thousand years of accepted dogma. Which could shake the foundations of Christianity.

Written by
Dan Brown
Directered by
Ron Howard
(
Cinderella Man
, 2005)
Cast :
Tom Hanks
,
Audrey Tautou
and
Ian McKellen
...
Watch The Da Vinci Code Trailer [here]
The official movie site or Dan Brwon's official wensite