Celebrating New Year 2006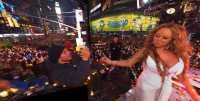 See how people around the world celebrating the new year, with this 360 degree panaroma view. There were sence from various places such as New York, London, Sydney, Taipei, Amsterdam etc...
The picture above was taken at Time Square New York where Mariah Carey was performing live, and counting down to the new year with the crowd.
Watch [
360 Panaroma New Year
] via
Panaroma.dk
.
Happy New Year and may all your wishes come true!!