You Da Sperm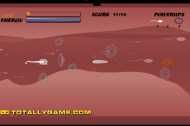 Imagine you are a 'Sperm', you job is to swim to the end of the 'Tunnel' and to be a human.
Remember that you have won once sometime ago. Now help this little sperm to fight the way out.
Play [
You Da Sperm
]
visit [
Campus Break
] for more funny stuff.