So You Think You Know Your Movies …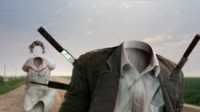 So, you think you know your movies, eh? Can you guess which movies these scenes are from? Easy?
There's a catch: the actors are digitally erased!
Play [
Guess Your Movie
] at
Filmwise
Filmwise had a simple beginning in late 1999. It began with a simple question, one friend to another: "Can you guess what movie this screenshot is from?" Nothing fancy, just a screenshot from a favorite flick. From that, a friendly game of "Oh yeah, well can you guess this one?" emerged. Over time the puzzles got more complex, themes arose, and the infamous "Invisible" was born. This site represents a lot of work and a lot fun. We hope you enjoy it.