The Mighty Desk Wobbler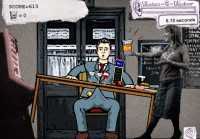 You're in the public, you've got the Pot Noddle Horn and Its threatening to topple the table and fling mess everywhere!! Time to pratice your damage limitation skill:
- Stop stuff falling off the table by keeping it balance as it pivots on your 'Ever-growing horn'
- Do this by dragging the objects around the table, applying pressure to the raised end by clicking your mouse below it.
- Gain bonus point by grabbing any any 'Pot Noddles' that appear and placing them on the table top.
- Keep the noise of the crashing items down for long enough, and you'll make it to the next level.
- Fail, and it's all over
Play the [
Desk Wobbler
]
** Becareful, that website contains
Tons of Adult games
!!