Cyril Takamaya - Basketball Trick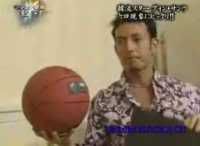 Long time no see, master of street perfomance; Cyril Takamaya. This time he 'Folled' around with a Korean artist with a few tricks; taking out a Basketball from a briefcase. Too bad the clip I found was incomplete, where he was halfway 'Cooking' Pop-corn from his hand. I think we saw that trick somewhere else, right?
Watch [
Cyril - Korean Artist
]
there are more video clips of Cyril at this site [
Magic Bar
].
tagged:
Media
,
Japan
,
Top performer
,
Cyril Takamaya
,
Magic
,
Magician
,
Funny
,
Video