Rube Goldberg Machines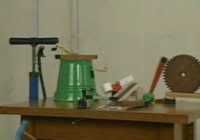 Kinetic goodness from beginning to end. Again we must be amazed with these Japanese's effort to create all those 'Movements'.
I always loved these Rube Goldberg Machines as a kid, alot of measuring and planing is done to complete them. I wish i had time to do cool stuff like this. But now I only have time to watch.
Check out this [
Rube Goldberg Machines video
] via
Ektopia
Somehow later I manage to find another [
Extended version
] via
Youtube