Standing on a Plane
Standing Seat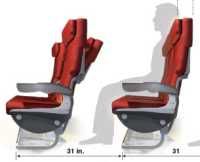 Traditional Seat
In order to save more space and to carry more passengers, Airbus has proposed a Standing room concept, allowing for even closer row spacing.
I wonder if they have an individual LCD screen as like they doing it now?
But personally I do not like the idea of being
'Stand'
in the Air.
Source [
NY.Times
]
via [
Random Good Stuff
]