Fly SafeSex airlines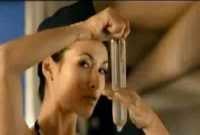 Have you ever pay attention during the explanation of the airline's safety precaution before the plane take off? I bet not, right?
I am sure that you will pay attention to this stewardess's demostration of using a condom. I do not want to miss a part of it.
Watch [
Safesex Airlines
]