2 Many Bugs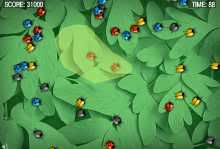 Use the mouse to draw a line around the same colored bugs to capture them.
To complete a level, you should gather all the same colored bugs together before time is up.
There are 8 levels in total, grab as many bugs in one shot to score more points. You may summit your score if you think your score is high enough.
Play [
2 Many Bugs
]