World Cup 2006 - Virtual Replay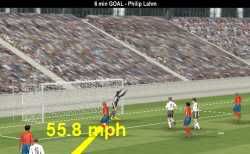 World Cup Quater Finals has over, it left only four teams which make the game more exciting. England lost to Portugal in the penalty shoot out. Well with their current form they really deserve to lose although I like them to stay.
If you have been missing some great goals and you want to watch it frame by frame and on different angle, for analysis or just for fun...
This is a great site to visit, now you can view your choice of goal from any angle, at your choice of speed in beautiful animated glory in BBC's Virtual Replay.
The above was the very First goal of World Cup 2006. Scored by
Philip Lahm
in 6minutes og the game vs Costa Rica.
Watch [
World Cup Virtual Reply
]
Tags:
Soccer
,
World Cup
,
Football
,
BBC
,
Virtual Replay
,
Germany
,
Philip Lahm