ImageFly - Free Image Hosting
I've been using Photobucket as my pictures' host since I started this site some time ago. I found it quite ok so I continue using it.
This month I have got very fantastic traffic. Visitors came from everywhere, amounting at least 100,000 visits, and more are coming. Somehow I overlooked the
bandwidth
of my picture host. I reveived a mail from Photobucket that I has run out of bandwidth! Where they only provide 10GB of it per month. So most of my pages will look like the picture below.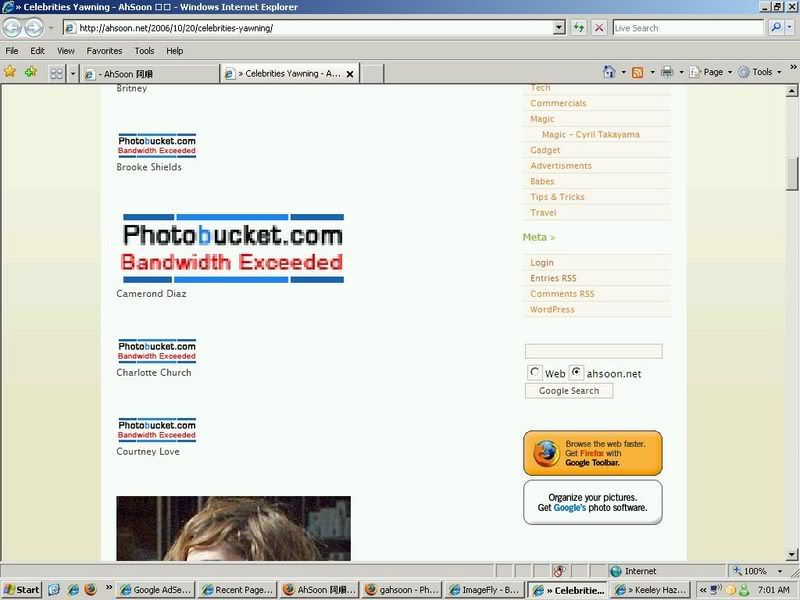 I feel sorry about that, and I am now in the process of transfering all my pics to another host.
I am now moving to [
ImageFly
]
There are few reason for choosing their service.
- First of all its
FREE
.
- They do not set limitation on the
Bandwidth
- Most important, they
Pay
you when your pictures is view by other users.
How it works?
You get 1 point for every unique image view on image you uploaded.When you reach 4,500 points, you get USD1. When you have accumulated $30 or more, You can request a money transfer to Paypal, and it may take up to 14 days to process your request.
Referal:
For each person that you refer, you get 30% of their imageviews. The more people you refer, the faster you can earn points!
Frankly, its not a fast way to earn money this way (you need
135000 points
or page views to reach $30), I wonder when will I reach it? But somehow you may get back something for sharing pictures online. Worth a try.
Please [
Signup
] fast and start earning today!!
[Tags] Photobucket, Image hosting, Bandwidth, Image Fly, Imagefly, Earn Money [/Tags]
Labels: Tips