David Blaine - Beer can trick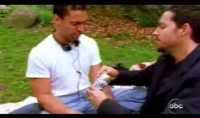 David Blaine made his name as a performer of close-up magic, usually working on the streets. Amongst magicians this is commonly known as street magic, pretty much same as Cyril Takamaya and Chris Angel.
In this clip, he managed to 'Refill' a can of empty beer to an 'Un-openned' one by just a touch of the seal area. He did it so quickly that even the guy sitting beside could not sees the trick.
Watch David Blaine's [
Beer Can Trick
]
via [
LemonZoo
]