Sudoku Freenzy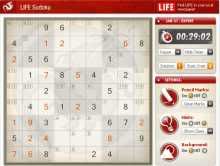 Recently I have been addicted to this game, and I have been trying to look for an Online type. Here I found one with cool interface, it provides the puzzle daily in different categories; from Easy to Expert. I haven been playing the expert stage for few days, and it really crack your head to solve it.
There are some useful features such as Timer, Pencil Marks (this is pretty useful), Hints, Clues, Help, Print and even Download from the Sudoku website.
Play [
Life Sudoku
]
Sudoku is really hot nowadays, you may even find a "Point'n'Click" game included Sudoku feature. I founf this game through "
The master of Point'n'Click
"
"
Ok, let me get this straight. The
Rat Room
is a
point'n'click
game where we have to escape the room, and it also features
sudoku
? Sweet. I could ask for more, but that would just be greedy

"
play [
The Rat Room
]
If you still do not know how to play this addicting game, look for the tutorial at [
http://www.sudoku.co.uk/
]