David Blaine: Drowned Alive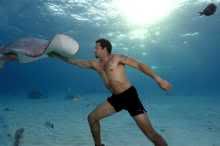 David Blaine, known for his headline-making feats of physical, emotional and mental endurance, will once again put his life on the line in a death-defying attempt to hold his breath underwater longer than any human being, which is currently a stunning eight minutes, 58 seconds. He will undertake this latest challenge after living with a life support system in a specially built human aquarium -- an eight-foot acrylic sphere -- for seven days and nights, in full public view in front of New York's Lincoln Center. Viewers will hold their collective breath during the heart-stopping finale of the broadcast when Blaine will put himself to the ultimate test - live - on a new, two-hour ABC primetime special, "David Blaine: Drowned Alive," MONDAY, MAY 8 (8:00-10:00 p.m., ET), on the ABC Television Network.
[
via PopBytes
]
Source:
ABC7.com
So we will wait.... But until then, lets watch how he [
CUTs his ear
] on a press conference...
Update

: You may view David's latest video [
Here
]