Submachine 2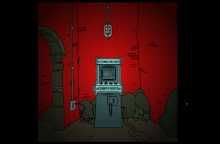 I played the first episode of [
Submachine
] (a Point'N'Click game) and completed within an hour, not really hard game to solve. But this second episode really different; with more rooms to go, lots more puzzles to solve and secrets to find.
This one really got me. I started playing since yesterday and I was kind of stuck in middle of nowhere.
Here are some notes from the creator,
Murtaugh
:
A sequel to the world's famous point'n'click Submachine game, that grabbed minds of millions of people. I received a huge feedback from all around the world, most of demands stated to make the second game bigger with harder puzzles. So here it is, while the first game had 20 rooms, this one has a total of 98 unique rooms, and the puzzles are a lot tougher, but that's just my subjective opinion, since I can't really tell if they are or not. Important notice: this game has NO dead ends, you cannot get to the point of no return, where the only option is to reset the game. No such thing in The Lighthouse.

Hope you'll enjoy this game as much as I enjoyed making it, and sure enough,

submachine3

is under construction as we speak, so expect more. Flash Plugin 8 required to play this game.
Play [
Submachine 2 - The Lighthouse
]