Bunny Titanic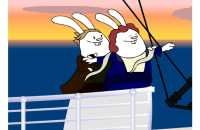 How many times have you watched the "Titanic"?
If you are too tired sitting in front of the screen for another three more hours. How about watch it in 30 seconds, see how they remake the movie with cute little bunnies.
There are other classic movies such as Star Wars, The Jaws, Alien, Pulp Fiction etc.
Watch [
Bunny Titanic
], and check out the re-enactments of other classic movies at [
Angry Alien Production
]